MyAir – Ducted Air Conditioning Management System
MyAir is Advantage Air's premium home ducted air conditioning management system with up to 10 zones and individual room air flow control, and a touchscreen that can double as a tablet.
It transforms your home the ultimate comfort zone.
Slimline 8-inch colour touchscreen as standard
MyAir app for your smartphone or tablet
Compatible with all major brands
Control up to 4 air conditioning systems from 1 MyAir touchscreen
Optional Individual Temperature Control
Optional energy-saving motion sensors
Optional 10-inch tablet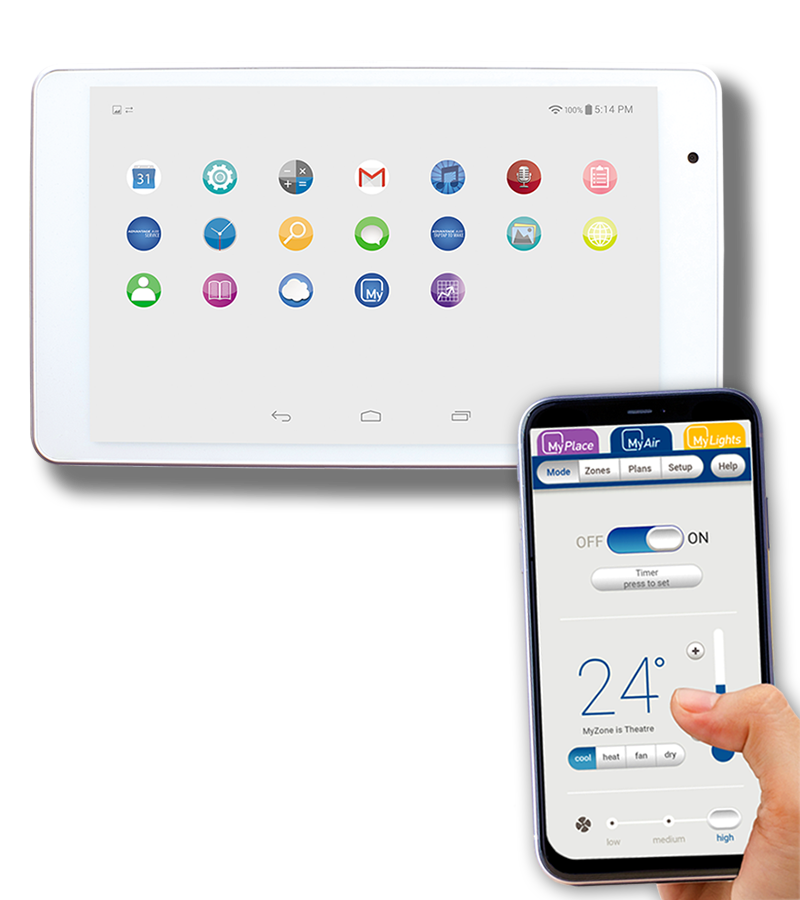 The MyPlace colour touchscreen is designed to be a complete home hub. In addition to controlling MyAir, the touchscreen is also an Android tablet that, with a touch of the Android icon, will let you keep track of the family's calendar, stay in touch with loved ones, play music and so much more … all from a centrally located hub that is permanently powered and wall mounted so it never goes missing.
As everything migrates online having a dedicated tablet for the home makes everyday life a little more comfortable.
MyAir comes with its own app that turns most smartphones or tablets into wireless remote controls, allowing you to control the system from the comfort of your couch, or while you are working up a sweat. The app works from anywhere your device has an Internet connection, meaning you'll be able to access it remotely using your MyAir app from anywhere in the world.
Integration
The MyAir system integrates seamlessly with all major air-conditioning brands: Daikin, Mitsubishi Electric, Fujitsu, Panasonic, Samsung, Mitsubishi Heavy Industries, Toshiba, Hitachi, Life's Good (LG), Panasonic, Carrier, Midea, Temperzone, Braemar, Gree Electric and Rinnai air-conditioners. The MyAir touchscreen controls both the air-conditioning unit and the air management system, so there's no need for two control panels.
Precision Airflow
MyAir allows you to control how much air each room receives, thanks to the patented Exact Air Regulator (EAR). It uses advanced technology, usually reserved for commercial high rise buildings, that enables you to adjust the airflow to any room in 5% adjustments. The touchscreen makes it simple to control which rooms, and how much air, is received and you achieve your preferred temperature as energy efficiently as possible.
Motion Sensors
The MyAir system comes with the option of motion sensors in the rooms of your choice. Motion sensors detect when a room has been empty for 10 minutes, and will adjust the temperature by + or –1°C. If the room still has no motion detected for another 10 minutes, the temperature is adjusted again by + or –1°C. This small adjustment is enough to reduce the room's energy usage. Re-entering the room will return it to your original temperature.
Temperature Control
There can be huge temperature differences between rooms in your home depending on their orientation. Installing Individual Temperature Control (ITC) sensors will automatically adjust the airflow to maintain your selected temperature. They can be installed in as many rooms as you like either at the time of installation, or later. As ITC sensors ensure you won't be over air-conditioning rooms, they have the added bonus of energy and cost savings.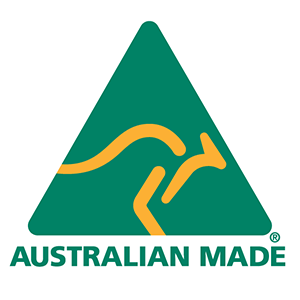 Advantage Air products are proudly Australian designed, owned and manufactured.