Daikin 12.5kw Inverter, Reverse Cycle, Under-Ceiling Cassette 1 Phase FHA125B-VCV
FHA125B-VCV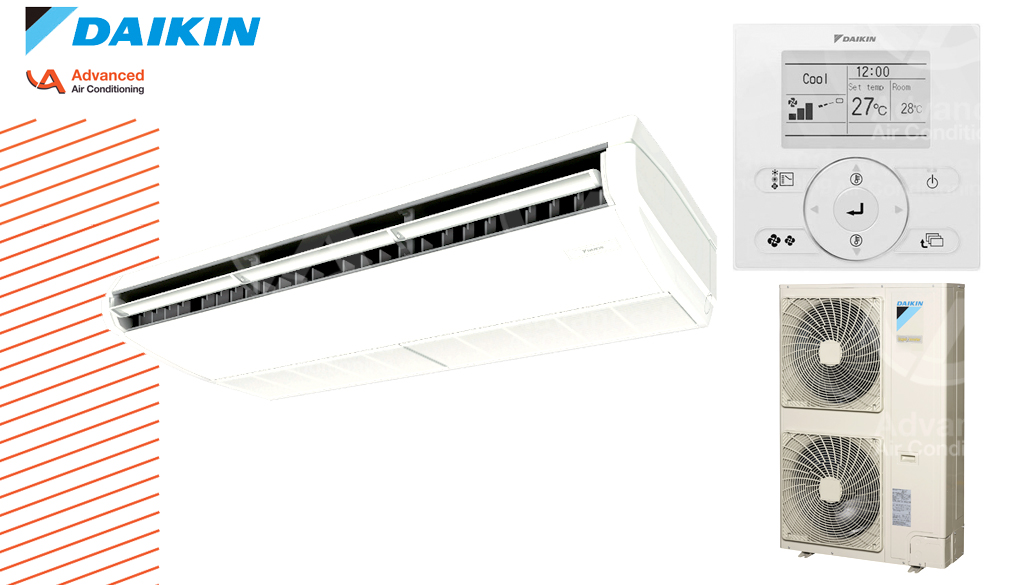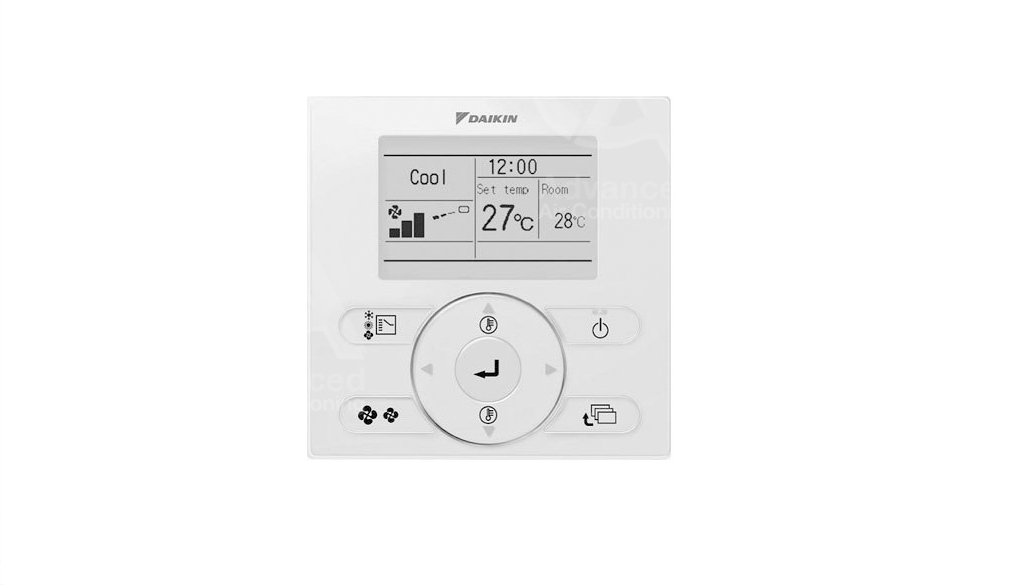 The Daikin commercial range is adaptable to almost any configuration with ease. An example of this is how these latest units can re-use existing pipework in your building, saving you costly rework and downtime when upgrading older systems. Advanced Air Conditioning has the commercial experience with these specific and technical procedures that allow reuse of old piping in commercial buildings.
Daikin's SkyAir Ceiling Suspended air conditioning system can keep cool even the largest of spaces without compromising wall space. The unit can be adapted to ceiling heights of up to 4.3m (10.0kW-13.2kW models), featuring wide angle louvre (manually configured) and vertical auto swing function.
With a sizeable number of existing R22 systems in the field reaching the end of the useful operating life, this Ceiling Suspended system also features R22 retrofit technology providing a simplified replacement solution which is also cost effective. Read more about the phase out of R22 here
All Daikin air conditioners exceed MEPS requirements, in line with Daikin's commitment to providing energy efficient, quiet, simple to use and reliable air conditioning solutions.
Oil Resistant plastic is used for the air suction grille; this satisfies durability in restaurants and other similar environments
Suitable for high ceilings, upto 4.3m
DIII-NET communication standard; connection to a centralised control system is available without need for an optional adapter
All wiring and internal servicing can be done from under the unit
Flexible installation; the unit fits more snugly into tight spaces
Switchable fan speed; control of airflow rate has been improved from 3-step to 5-step. Auto air rate is newly available.
Cassettes are managed from a user friendly remote control with an easy-to-read LCD display, enabling users to manage various system control configurations with ease, as well as control multiple indoor units from a single remote.
INDOOR UNIT
FHQ125BVMA
OUTDOOR UNIT
RZAV125CV1
Rated Capacity
Cool (kW)
12.5
Heat (kW)
14.0
Capacity Range
Cool (kW)
5.7-14.0
Heat (kW)
6.0-16.2
Power Input (Rated)
Cool (kW)
3.97
Heat (kW)
4.52
E.E.R./C.O.P.
C/H
3.15/3.10
Air Flow Rate (Rated)
l/s
517/450/383
Indoor Sound Pressure Level
dBA
31
Piping Length
m
75
Indoor Fan Speeds
H/M/L
Dimensions (HxWxD)
Indoor (mm)
235x1590x690
Outdoor (mm)
1430x940x320
Weight (FDYQ)
Indoor (kg)
38
Outdoor (kg)
108
Power Supply
V/HZ
1 Phase, 220-240V, 50Hz
Compressor Type
Hermetically Sealed Scroll Type
Refrigerant
R410A
Refrigerant Pipe Size
Liq (mm)
9.5 (Flared)
Gas (mm)
15.9 (Flared)
Drain (mm)
ID 20 / OD 26
Outdoor Operating Range
Cool (°CDB)
-5 to 46
Heat (°CWB)
-15 to 16
Outdoor Sound Level (H) @ 1 metre from front of unit
Pressure dBA (C/H)
54/56
EPA Sound Power Level
Outdoor (dBA)
–
Wireless LCD Remote Controller/Signal Receiver Unit BRC7M53
A signal receiver must be added to the indoor unit which then allows for remote controlling
Installation
The Daikin commercial range is adaptable to almost any configuration with ease.
Please contact us for a no-obligation detailed installation quote for new or existing commercial systems. We can tailor a cost effective package for owners or building and facilities managers, and have many referrals to confirm our workmanship and appropriate systems specification.
Call (07) 3256 6033 or email info@advair.com.au

$4,785.00
Only available from Daikin authorised dealers (that's us!)
Suitable for high ceilings, upto 4.3m
Indoor Unit, Outdoor Unit and BRC1E63 Controller only
Oil Resistant Plastic Air Suction Grille
Contact us for Installation Prices
Have you though about adding...