Daikin 18kW Premium Inverter, Reverse Cycle R410A Ducted, 3 Phase FDYQ180LC-TY
FDYQ180LC-TY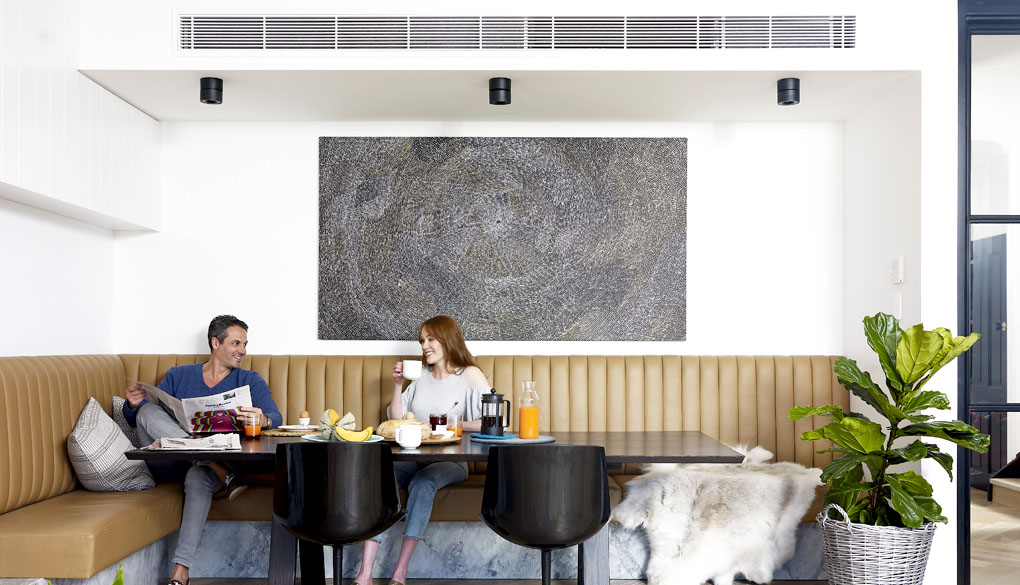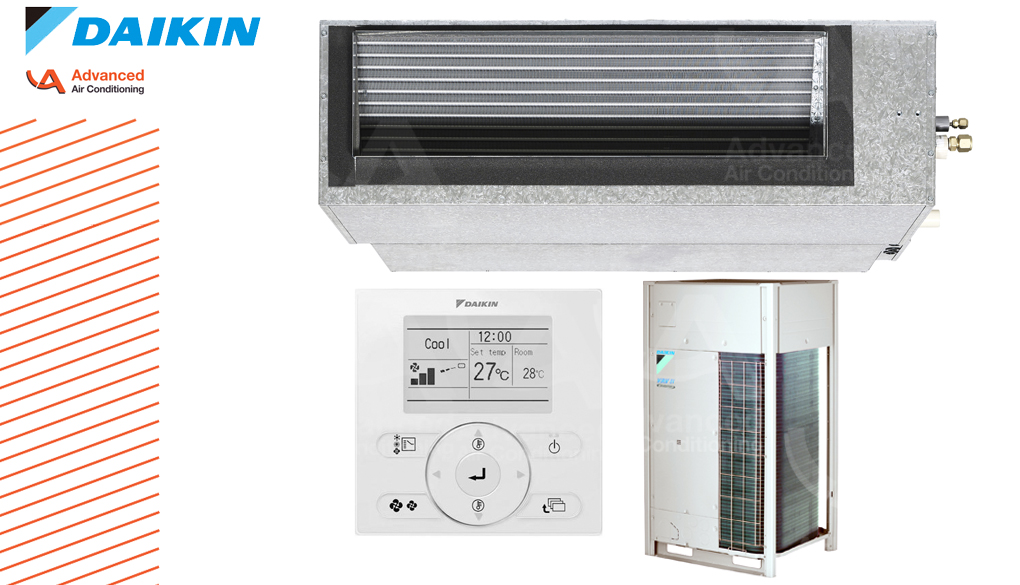 A Daikin Ducted System provides superior and discreet air conditioned comfort. It can be installed in a new home or tailored to suit an existing one, and once installed, only the controller, the return air and discharge grilles are visible inside your home. Engineered to deliver remarkable energy performance, design flexibility and R22 retrofit capability, the Premium Inverter series is the ultimate ducted solution.
Australian Made – Indoor units are specifically designed and manufactured to Australian standards to withstand the harsher summer climate.
All Daikin air conditioners exceed MEPS requirements, in line with Daikin's commitment to providing energy efficient, quiet, simple to use and reliable air conditioning solutions.
Industsry Leading Energy Performance achieved with a redesigned cross-pass heat exchanger, DC fan motor and improved refrigerant control technology.
Daikin Premium Inverter systems are equipped with a DC Fan motor on the indoor unit with up to 15 different fan speed settings that can be enabled through a field code from your BRC1E63 controller. These features and others are designed to enable flexibility in applying these products into various domestic and commercial applications.
Provides a cost effective and convenient upgrade from an existing R22 ducted system whilst retaining the field piping.
Wide Capacity Limit allows continuous operations even on the hottest days of summer, or the coldest days of winter (max ambient temperature in Cooling 46°CDB and Heating -15°CWB).
Inverter Technology – An inverter system works like the accelerator of a car, gently increasing or decreasing power. They reach the desired temperature quicker and steadily maintain it without fluctuations.
Backlit Display, Home Leave Function, Temperature Limit, Weekly Schedule Timer, Quick Cool/Heat Mode, Off Timer Feature.
INDOOR UNIT
FDYQ180LCV1
OUTDOOR UNIT
RZYQ7TY1
Rated Capacity
Cool (kW)
18.0
Heat (kW)
20.0
Capacity Range
Cool (kW)
10.8-20.0
Heat (kW)
12.0-22.4
Power Input (Rated)
Cool (kW)
5.61
Heat (kW)
5.81
E.E.R/C.O.P
Cool/Heat
3.21/3.44
Air Flow Rated (Nominal/Max)
l/s
1160/1200
Indoor Sound Level (H) @ 1.5m
dBA (C/H)
45.0/45.0
Piping Length
(m)
150
Indoor Fan Speeds
H/M/L
Dimensions (HxWxD)
Indoor (mm)
470x1200x997
Outdoor (mm)
1657x930x765
Weight
Indoor (kg)
70
Outdoor (kg)
192
Power Supply
V/Hz
3 Phase, 380-415V, 50Hz
Compressor Type
Hermetically sealed scroll type
Refrigerant Type
R410A
Pipe Sizes
Liquid (mm)
9.5 (Brazed)
Gas (mm)
19.1 (Brazed)
Drain (mm)
BSP 3/4 Inch Internal Thread
Supply Air Opening
mm (HxW, Flange)
350×918
Return Air Opening
Oval (mm)
393×918 (Flange)
Outdoor Operating Range
Cool (CDB)
-5 to 49
Heat (CWB)
-20 to 16
EPA Sound Power Level
dBA
–
Outdoor Sound Level (H) @ 1m
Pressure dBA (C/H)
56/56
Daikin Zone Controller
Zone Control is available on all ducted systems and allows you to group specified rooms within a particular "zone". Zoning can help maximise energy efficiency and comfort by specifically targeting heating and cooling. For example, you may want to assign bedrooms to Zone One and the living areas to Zone Two etc., to thus enable these specific areas to be cooled or heated individually when needed. When a zone is selected, cooling and heating will not be distributed to rooms outside the zone.
The position of the discharge grilles featured in a ducted system can also be tailored to suit the shape of each room within a zone, for optimum air circulation. For Zone Control functionality your Daikin heat pump must be fitted with a Daikin Zone Controller and associated zone control dampers. The Zone Control is featured on the Zone Controller.
Daikin Airbase Mobile Control
Daikin Airbase Daikin Airbase puts your system's frequently used functions at your fingertips with an easy to use app. In conjunction with Daikin's BRP15B61 wireless LAN adaptor, the Airbase app lets you use your smartphone or tablet to operate your air conditioning unit via your inhome Wi-Fi or remotely with an internet connection. The Daikin Airbase app is available to Android; iOS devices and is only compatible with SkyAir VRV indoor units.
MyAir Smart Air Conditioning
MyAir is a premium home air conditioning management system with up to 10 zones and individual room air flow control and a touchscreen that can double as a tablet. MyAir comes with its own app tat turns most smartphones or tablets into wireless remote controls allowing you to control the system from the comfort of your coach, or while you are working up a sweat. The app works from anywhere your device has an internet connection, meaning you'll be able to access it remotely using your MyAir app from anywhere in the world.
Installation
With our manufacturer offering a 5 year warranty on this product, don't risk making it void by having this unit installed incorrectly. We liaise with the manufacturer on your behalf, so you don't have to stress about a faulty product.
5 years is a lot of hot days in Brisbane, and a fair few cold ones as well. If you use us you will be rest assured that we will be around to fix your air-conditioning when you need it.
By adding this to your cart, one of our experienced staff will call and arrange a quote on installation for you. Easy!

$8,130.00
5 year Manufacturer's Warranty
Only available from Daikin authorised dealers (that's us!)
Indoor Unit, Outdoor Unit and BRC1E63 Controller only
Retrofitting an old R22 ducted system
Contact us for Installation Prices
Have you though about adding...