Gelair 4L Fogging Machine
FM4L
Sale!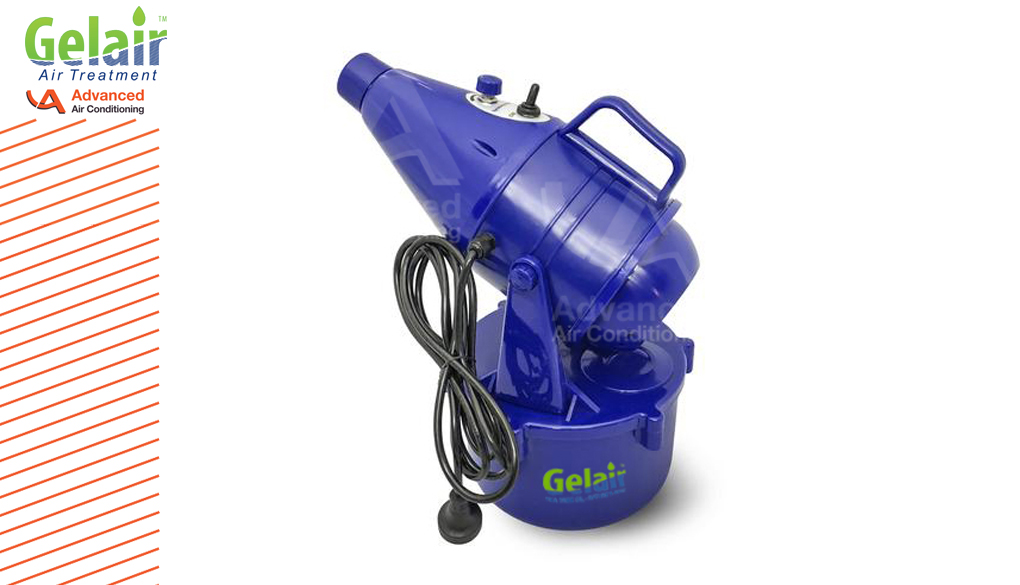 Cold Fogging is a means of applying disinfectants, biocides, fungicides, germicides and deodorizers.
Mould indoors can usually be found in damp, dark or steamy areas (such as bathrooms or kitchens, cluttered storage areas, recently flooded areas, basement areas, plumbing spaces and areas with poor ventilation). Fogging is used to apply fungicides and biocides to these areas to counter the adverse effects of mould, bacteria and viruses.
Pathogenic microbes such as virus, fungi and pathogenic bacteria are the main cause of airborne or direct contact diseases affecting humans. Studies show the application of disinfectants and biocides via aerosol or cold fogging devices significantly reduce the number of viable infectious pathogens. Foggers produce micro droplets that float in the air for around 10 minutes after application, reaching the most inaccessible parts where conventional cleaning or spraying can't reach.
The Gelair™ Fogging Machine works by compressing Gelair™ Fogging Solution through a specifically designed nozzle, producing a fine cold mist or aerosol. The Gelair™ Fogging Machine is particularly ideal for indoor application as it does not produce exhaust gases or excessive noise. The four-litre tank of the Gelair™ Fogging Machine means the device is perfectly suited for any small or medium scale cold fogging task; generating ultra-low volume droplets (of approximately 20 microns) of high quality Gelair™ Pure Tea Tree Oil based solutions.
Combat and prevent mould, bacteria and viruses indoors through fogging.

$490.00
Designed for Mould Removal
Powerful Steriliser
Gets into hard to reach spaces
Ideal for indoor applications
Only 2 left in stock
Have you though about adding...