Daikin 5.0kw Reverse Cycle, In-Ceiling Compact Cassette, 1 Phase FFA50A-CEV
FFA50A-CEV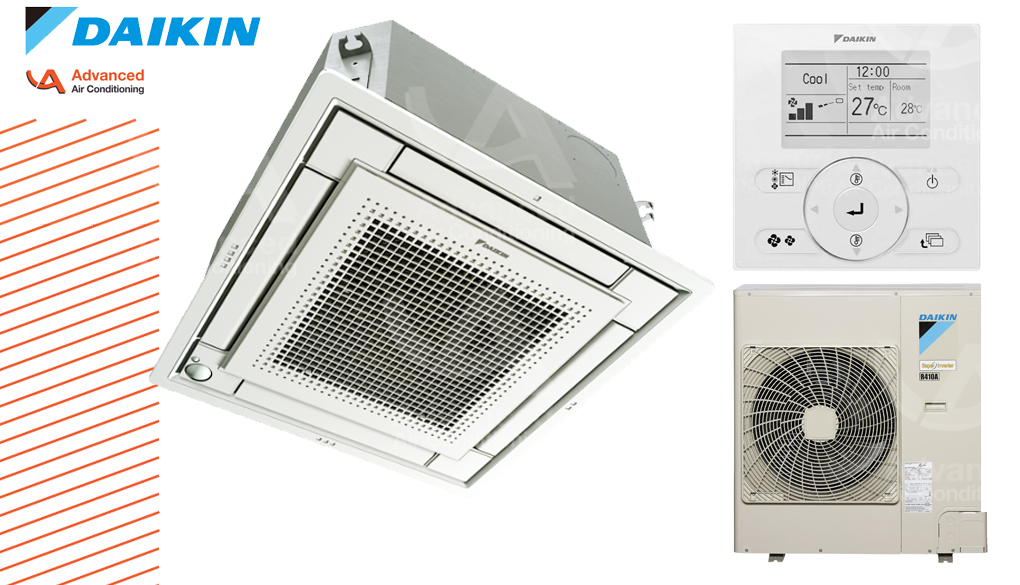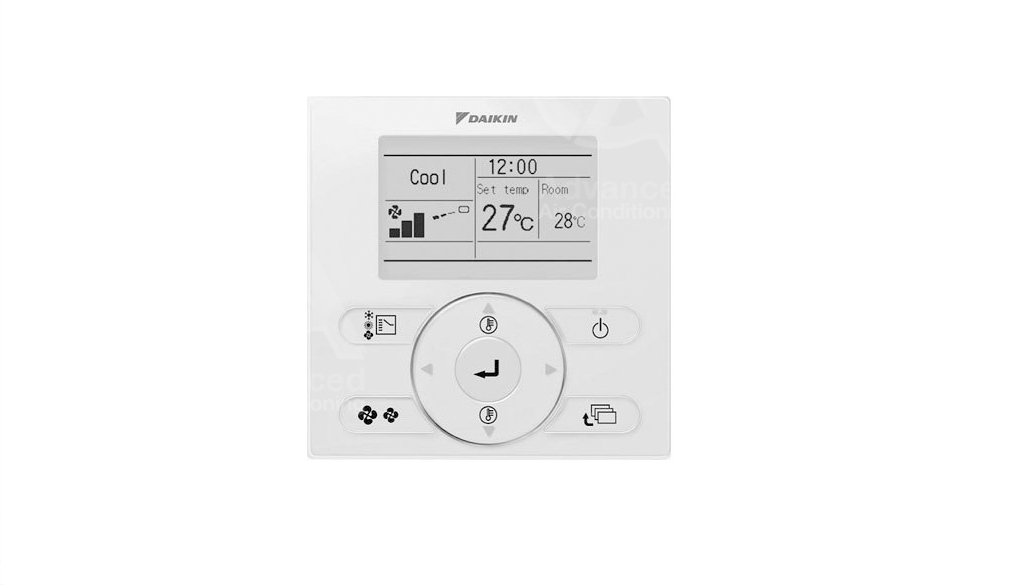 Daikin's light commercial applications are designed for use in shops, restaurants and small offices, Daikin's SkyAir cassette systems provides a comfortable environment for building occupants all year round and offers building owners substantial operating efficiencies to help minimise operating costs. Designed to blend discreetly with modern decor, Daikin's Fully Flat Cassette features modern, iconic design with an elegant high quality finish. The Fully Flat Cassette combines the latest technology with innovative functions for high operating efficiency and user comfort, all within a unique design that allows the visible panel to fit flush within standard architectural ceiling panels.
All Daikin air conditioners exceed MEPS requirements, in line with Daikin's commitment to providing energy efficient, quiet, simple to use and reliable air conditioning solutions.
Fully Flat with the Ceiling
FFA-A2VEB's new panels have been designed to integrate with standard ceiling tile dimensions
Air Quality; Because air quality is as important as temperature for occupant comfort, Daikin's FFA-A2VEB Fully Flat Cassette features advanced filters to help remove dust particles to ensure the air is clean.
The Fully Flat Cassette is one of the quietest units in the light commercial market and, in addition to the sensors, has various functions that are designed to enhance user comfort.
Fully Flat Cassettes are managed from a user friendly remote control with an easy-to-read LCD display, enabling users to manage various system control configurations with ease, as well as control multiple indoor units from a single remote.
INDOOR UNIT
FFA50A2VEB9
OUTDOOR UNIT
RXS50L3V1B
Rated Capacity
Cool (kW)
5.0
Heat (kW)
5.8
Capacity Range
Cool (kW)
1.7-5.3
Heat (kW)
1.7-6.0
Power Input (Rated)
Cool (kW)
1.56
Heat (kW)
1.66
E.E.R/C.O.P
Cool/Heat
3.21/3.49
Air Flow Rated (H/M/L)
l/s
200/167/125
Indoor Sound Power Level (H)
dBA
39
Piping Length
(m)
30
Indoor Fan Speeds
H/M/L
Dimensions (HxWxD)
Indoor (mm)
260x575x575
Outdoor (mm)
735x825x300
Weight
Indoor (kg)
17.5
Outdoor (kg)
47
Power Supply
V/Hz
1 Phase, 220-240V, 50Hz
Compressor Type
Hermetically sealed scroll type
Refrigerant Type
R410
Pipe Sizes
Liquid (mm)
6.4 (Brazed)
Gas (mm)
12.7 (Brazed)
Drain (mm)
VP20
Outdoor Operating Range
Cool (CDB)
-10 to 46
Heat (CWB)
-15 to 18
EPA Sound Power Level
dBA
62
Outdoor Sound Level (H) @ 1m
Pressure dBA (C/H)
48/48
Presence/Location Sensors BRYQ60A2W
To ensure perfect interior comfort Daikin's FFA-A2VEB Fully Flat Cassette can be fitted with an optional sensors, linked to an advanced controller. When there is nobody in the room, the presence sensor adjusts the set point or switches off the unit, avoiding unnecessary cooling or heating and helping to reduce energy consumption. When motion is detected the temperature is reset to its original set point ensuring perfect, energy efficient operation.
The sensor also adapts the direction of the airflow depending of where people are situated in the room, reducing draughts and enhancing occupant comfort. Because heat rises, air is typically warmer near the ceiling and cooler near the floor. The FFA-A2VEB cassette's 'floor' sensor detects the temperature difference, redirecting airflow for more even temperature distribution.
Installation
The Daikin commercial range is adaptable to almost any configuration with ease.
Please contact us for a no-obligation detailed installation quote for new or existing commercial systems. We can tailor a cost effective package for owners or building and facilities managers, and have many referrals to confirm our workmanship and appropriate systems specification.
Call (07) 3256 6033 or email info@advair.com.au

$2,415.00
Only available from Daikin authorised dealers (that's us!)
Integrates seamlessly into a 600x600mm ceililng tile
Indoor Unit, Fascia, Outdoor Unit and BRC1E63 Controller only
Whisper Quiet Operations
Contact us for Installation Prices
Have you though about adding...