Why you should upgrade to Daikin
Technological advance continues at a rapid pace, and it hasn't excluded the air conditioning industry. The air conditioner purchased in the early 2000's is much different to what you can buy today. Today's ducted and split reverse cycle systems are quieter, more adaptable, come with a long warranty period and are much cheaper to run. If the thought of quiet, more efficient air from a new, guaranteed system begins to sound appealing, here are the two most important reasons to upgrade your aircon to Daikin, explained in a bit more detail.
The Old Gas your System uses.
If you purchased your air conditioner before 2010, chances are it used R22 refrigerant. This is now being phased out of the industry as newer gases such as R410a and R32 become standard. So, what does this mean for your old air conditioner? Firstly, replacement R22 gas has now become very, very expensive. From 2016, there is only 2.5 tonnes allowed to be imported into Australia per year. That's not enough to service the approximately 26% of air conditioners that used R22 gas in Australia in 2012 (Link to Source).
If your air conditioning system was installed properly, it should not need re-gassing unless it's been knocked around a bit. For those systems that use R22 and need to be re-gassed, it may be better to simply get a new system that a) uses the most common refrigerant, b) comes with a long warranty, and c) is actually cheaper to run. We recommend the new Daikin models of ducted air conditioning that use R410a as their refrigerant. One of the reasons we recommend these systems is the costs savings achieved with the ability of the new Daikin units to use the existing pipework. R22 systems operated with a different chemical composition and the copper piping used to carry the refrigerant is often incompatible with new refrigerants. However, Daikin have developed several technological advances in their Premium Inverter range that allows reuse of existing pipework if it is in a fair condition.
Reducing your running costs.
The advances made in air-conditioning efficiency mean that a replacement Daikin ducted system can be 25% cheaper to run than an older model from the early 2000's. Add to this the other usual advances in product technology which have resulted in much quieter and more adaptable systems that can even be controlled by your smartphone, and the benefits of a replacement system become even greater.
To summarize the saving in running costs available, here is a comparison of a Daikin split system upgrade.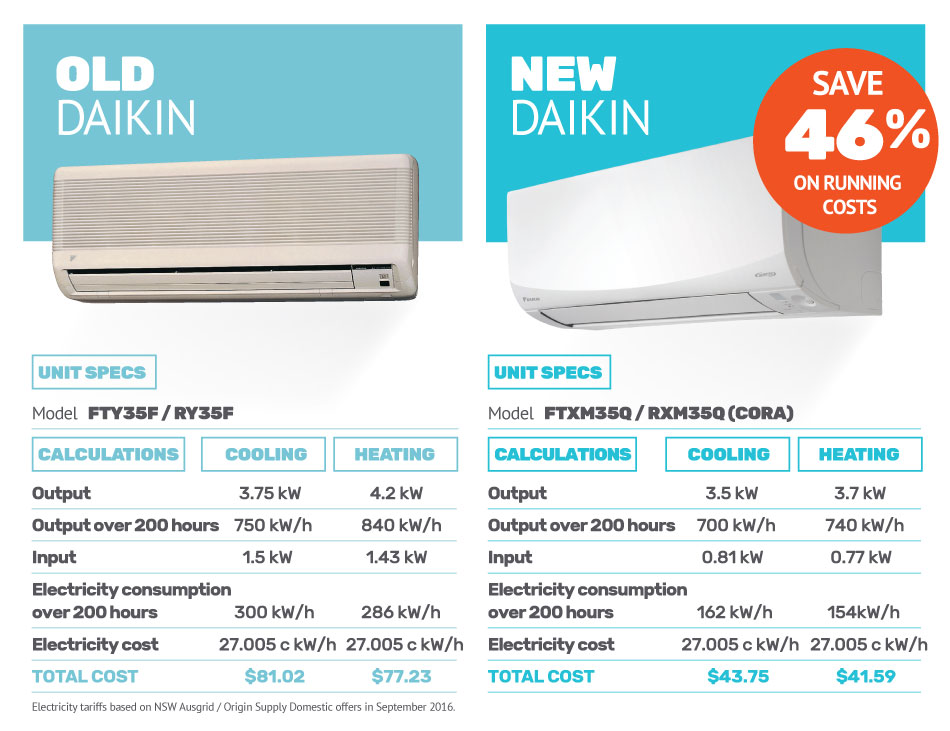 And here is a comparison of a Daikin ducted system upgrade.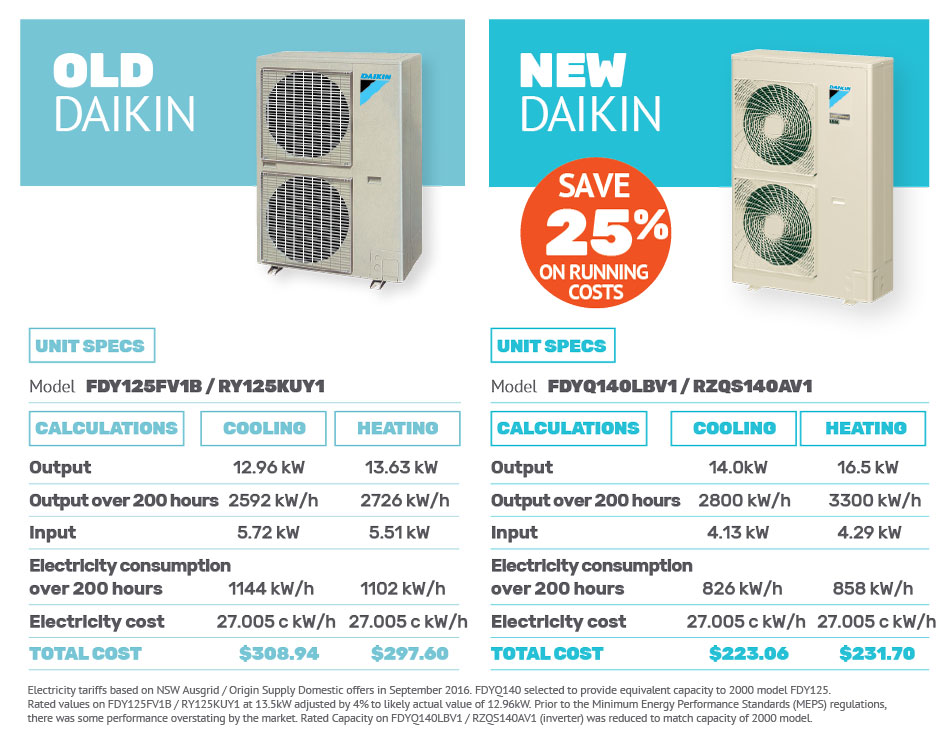 Note these are for residential applications, and further cost savings would be predicted for larger commercial applications, especially when the installation costs are reduced by reusing existing pipework.
Download the Daikin Upgrade Brochure for Split Systems here
Download the Daikin Upgrade Brochure for Ducted Systems here
You may also be interested in